Jocelyn L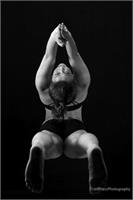 Name: Jocelyn Lescarbeau
Hometown: Minnetonka, Minnesota
Something That's Yours: The less I own, the more I have. But beyond that, I own a body, a voice, and a deep curiosity for the mystery of life.
Why Do You Practice Yoga?
Oh my... so many reasons since yoga is life, but I mainly practice yoga because the ecstasy feels so damn good in my body. My body is the vehicle for my wild spirit and it needs love and attention to operate smoothly and efficiently at the caliber required to express itself. Therefore, it's important for me to practice yoga to maintain a healthy physical lifestyle. As far as meta-physics go, I also practice yoga to share sacred space with my community and experiment with my spiritual faculties. Overall, the yoga practice helps me to attune to my spiritual center and align with the whole of existence to bring harmony both within and without me.
Teaching Style and Class Styles Taught:
I teach the traditional Core 26 class and my teaching style is highly focused and concentrated to enhance deeper states of meditation and exploration.


What you love about teaching at SGY?
I love teaching at Sweaty Ganesh Yoga because the community is incredibly supportive and diverse. So many bright souls walk through that door but they come in all different shapes and sizes along with all sorts of special gifts to share. I love both practicing and teaching at the Sweaty G because the studio space is a safe and compassionate place to express oneself authentically. Also, it's warm in there, my personal idea of paradise.


Inspirational Quote
I dedicate myself to the universal diamond, be this raging fury be destroyed -Excerpt from Gary Snyder's Smokey the Bear Sutra
Jocelyn L is currently not instructing any classes.