Alaina M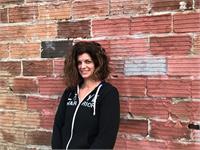 Alaina Melconian, Studio Manager
Hometown: Long Island, NY
Something that's yours: 4 Amazing children-Sam, Stevie, Alex and Nick
What First Drew You to Yoga and Why?
I saw a sign in my hometown for Hot Yoga and thought, what is this? I stepped inside had my first class and never stopped. I truly thought where has this been all my life? I guess you could say I followed the sign!
What Do You Find Most Satisfying About Teaching?
Teaching is a gift. I love the excited energy I feel as I step through the door to the yoga room. Seeing students eager to move both mind and body. I watch the transformation throughout class of lifes many ups and downs melting into the mats. My hope and goal is that I am able to touch each student in a way that they feel a little lighter after class.
What you love about teaching at SGY:
The community feel for sure. We have a special vibe where people want to stick around and chat in our "living room" SGY truly feels like family to me and I wouldn't want to be anywhere else.
Inspirational Quote:
I've learned that people will forget what you said, people will forget what you did, but people will never forget how you made them feel -Maya Angelou
Alaina M instructs the following:
This is a 60 minute version of the Core 26 class. Core 26 is a beginner level class created for total body health, done in a room heated to 105 degrees. It works to increase strength and flexibility in joints, tendons, ligaments, muscles, and bones, while also providing a cardiovascular workout. The spine and pelvis are targeted areas in all postures. This class is appropriate for people of all ages, body types, and levels of experience, including those with injuries who are looking to heal the body.





A vinyasa class is a moving meditation. Synchronizing movement, internally and externally, with one's breath, the intention of the class is to place in a special way, one's body, breath, and being in an asana practice. A focus on the integrity of the breath, alignment, and proper modifications and variations are integral to each class so that a vinyasa practice can be accessible for a range of practitioners. Because it is not a one-size-fits-all practice, it is common for practitioners to be doing different expressions of an asana in a vinyasa class. Each class is intelligently sequenced so that each posture prepares the practitioner for the next.