Daniel W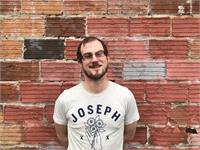 Why do you practice yoga?
I practice yoga because it helps channel my excess physical energy and calm my mind. I am a more centered and happy person due to my yoga practice.
What do you enjoy about teaching yoga?
As a new teacher I am excited to share my love and knowledge of yoga with both new and old students.
What's the funniest thing you've ever said while teaching or practicing?
I haven't had the chance to say too many funny things as a teacher though I have heard some funny things. Let me know when I say something goofy.
If you had a superpower what would it be?
My superpower... Flight would be really fun but probably wouldn't be that practical. Maybe breathe underwater and be able to withstand the pressure to explore the briny deep.
Daniel W instructs the following:
Core 26 is a beginner level class created for total body health, done in a room heated to 105 degrees. It works to increase strength and flexibility in joints, tendons, ligaments, muscles, and bones, while also providing a cardiovascular workout. The spine and pelvis are targeted areas in all postures. This class is appropriate for people of all ages, body types, and levels of experience, including those with injuries who are looking to heal the body.