Benjamin W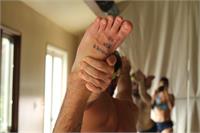 Why do you practice yoga?
I've had plenty of experience running, cycling and climbing mountains in my life, but the hardest thing I've ever done is a Core 26 yoga class. It is also the most satisfying, rewarding and rejuvenating thing I have ever attempted. Also, I've learned that the "harder" I try, the less I get out of my practice. My "best" classes or the ones where I've made the most advancements are the ones where I have surrendered to being right where I am it. There's a reason I put "be still..." on my foot.
What do you enjoy about teaching yoga?
It's hard to believe that there could be something more satisfying than practicing, but, if there is, it is most certainly teaching. I love guiding people into a place where they believe anything is possible, that today can be better than any day before it, and, that no matter where you're at, you're just fine. Also, I get to stand around in hot pants and tell people what to do.

What's the funniest thing you've ever said while teaching or practicing?
Raise your hands up to parallel with the floor if you like this posture!!

If you had a superpower what would it be?
To put my forehead on my knee. Okay, maybe flying.
Benjamin W instructs the following:
Core 26 is a beginner level class created for total body health, done in a room heated to 105 degrees. It works to increase strength and flexibility in joints, tendons, ligaments, muscles, and bones, while also providing a cardiovascular workout. The spine and pelvis are targeted areas in all postures. This class is appropriate for people of all ages, body types, and levels of experience, including those with injuries who are looking to heal the body.