Annette G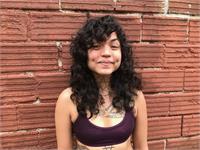 Annette Garcia aka AG
Hometown: Higley, Arizona
Something that's yours: 1 daughter, Ash.
2 yoga leotards. 3 Pendleton flannels. 4 Yoga books. 5 pairs of shoes
Why Do You Practice Yoga?
A lot of reasons attract me to yoga! consciousness, composure, grace, humility, lightheartedness, and strength. I love Core 26 because it is the foundation to my asana practice. My mind, heart, and body merge on the mat. On my best days I master the art of relaxation. I feel grateful for all styles that I learn in Yoga, and every time I learn something new it transcends in to every aspect of my life.
What Do You Find Most Satisfying About Teaching?
The most satisfying feeling about teaching is developing unity within the unique. The stillness and the breath amongst the people together conjure the same power and depth as witnessing ocean waves.
What you love about teaching at SGY:
I love the solidarity I feel in the teacher collective. We bond because of yoga. The depth of which we are all connected to our yoga story makes us a family. As a student, I feel genuine community. The leadership and guidance of the teachers keeps me happy on my mat.
Inspirational Quote:
Perfection in an asana is achieved when the effort ceases and the infinite being within is reached- B.K.S Iyengar
Annette G instructs the following:
This is a 60 minute version of the Core 26 class. Core 26 is a beginner level class created for total body health, done in a room heated to 105 degrees. It works to increase strength and flexibility in joints, tendons, ligaments, muscles, and bones, while also providing a cardiovascular workout. The spine and pelvis are targeted areas in all postures. This class is appropriate for people of all ages, body types, and levels of experience, including those with injuries who are looking to heal the body.