Ashley D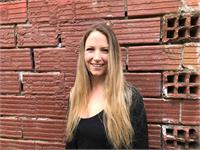 Why do you practice yoga?
For a very long time I had a strong distaste for exercise. Mindless exercise was never in my cards. I needed an exercise that meant something other than just staying fit, a deeper purpose behind the movement. I needed the spiritual seed that is open for exploration in yoga. I practice because yoga keeps me engaged and evolving, both inside and out.
What do you enjoy about teaching yoga?
I have been given so much from my practice I simply cannot contain it. It is my joy and honor to witness that gleam of contemplation, that spark of realization in their eyes. Like butter on warm toast! Scrumptious. To me, teaching is another stage in learning and I am grateful to be a forever-student.
What is the funniest thing you've ever said while teaching or practicing?
Eagle pose: "Imagine your wearing really tight whitey-tighties and they are squeezing and compressing all up in your thigh creases!" then I said "Imagine you have a big walnut in-between your thighbones and your gonna crack it!". The gentlemen in my class teased me forever after that.
If you had a superpower what would it be?
I would love to fly like superman! But it must include breathing underwater and in outer space.
Ashley D instructs the following:
Ashtanga is a system of asana practice introduced to the West by Sri Krishna Pattabhi Jois. In addition to a vigorous, heat-building warm up and fundamental standing postures, the Primary Series (Yoga Chikitsa) is comprised of 56 asanas practiced in a particular order to produce effective opening in the tissues of the body as well as the substance of the mind.