Jess E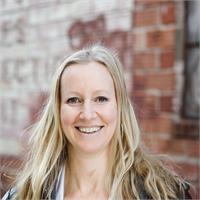 Why do you practice yoga?
Well, when I first started practicing yoga in 2005 I was looking for a good workout and something that would be great cross-training for running, which was my physical activity of choice at the time. I certainly found that, but I also found a whole lot more that I couldn't have told you I needed...self-acceptance, body acceptance, coping skills for anxiety, a more powerful voice, and a general attitude of mindfulness that makes the ever-changing, unexpected nature of life feel rhythmic and even exciting. There's a phrase that's always stuck with me...yoga makes you you. And it's true. That's why Ganesh is in our studio's name - I wholeheartedly believe that yoga removes the physical, mental and emotional obstacles to being our authentic selves.
What do you enjoy about teaching yoga?
I love watching students figure themselves out and do things with their bodies and minds that they never thought were possible. And just like the practice, teaching is a continual growth process. I learn new things about myself and my students each time I step into the room.
What's the funniest thing you've ever said while teaching or practicing?
I have moments of verbal dyslexia sometimes...so this one time I was attempting to tell a student named Shelby to "sit down" further in a posture and it came out, "Selby..." I'm sure you can fill in the rest. I couldn't even finish what I was saying after that because I couldn't stop giggling.
If you had a superpower what would it be?
At the risk of sounding like everyone else who has ever answered this question...I would love to fly.
Jess E instructs the following:
A vinyasa class is a moving meditation. Synchronizing movement, internally and externally, with one's breath, the intention of the class is to place in a special way, one's body, breath, and being in an asana practice. A focus on the integrity of the breath, alignment, and proper modifications and variations are integral to each class so that a vinyasa practice can be accessible for a range of practitioners. Because it is not a one-size-fits-all practice, it is common for practitioners to be doing different expressions of an asana in a vinyasa class. Each class is intelligently sequenced so that each posture prepares the practitioner for the next.




This is a 60 minute version of the Core 26 class. Core 26 is a beginner level class created for total body health, done in a room heated to 105 degrees. It works to increase strength and flexibility in joints, tendons, ligaments, muscles, and bones, while also providing a cardiovascular workout. The spine and pelvis are targeted areas in all postures. This class is appropriate for people of all ages, body types, and levels of experience, including those with injuries who are looking to heal the body.