June News
Contents:
Summer Schedule Changes

Hot Yoga Teacher Training at SGY

Class Announcements

Community Class - Vinyasa in the Vinyard

Strength & Conditioning Monthly Focus

Posture of the Month

Summer Kids Yoga Classes

Teacher Feature

Meet Our New Teachers

SGY Blog
---



Summer Schedule Changes
Effective June 15th - September 30th
Monday - 9am C26 changes to 9am 1 hr C26
Tuesday - no 4pm C26, and no 7:30pm Restorative
Wednesday - 9am C26 changes to 9:30am 1 hr warm Vin-Yin
Thursday - no 4pm C26+
Friday - 4 and 6pm C26 classes condensed to 5:15pm C26
Saturday - 4pm C26 changes to 4pm 1 hr C26

---
HEATED STUDIO
| | | | | | | | |
| --- | --- | --- | --- | --- | --- | --- | --- |
| | MON | TUE | WED | THURS | FRI | SAT | SUN |
| 6:30am | 1hr C26 | Vin | 1hr C26 | Vin | 1hr C26 | | |
| 9:00am | 1hr C26 | | | | Vin | C26 | |
| 9:30am | | | Vin-Yin | Vin | | | |
| 11:00am | | | | | | Vin | Vin |
| 12:00pm | 1hr C26 | Vin | 1hr C26 | Vin | 1hr C26 | | |
| 4:00pm | | | | | | 1 hr C26 | C26 |
| 4:30pm | Vin | | Vin | | | | |
| 5:15pm | | | | | C26 | | |
| 6:00pm | C26 | Vin | C26+ | C26 | | | 1hr C26 |



C26=Core 26 (90 minutes)




1hr C26 = 1 hour Core 26




C26+=Core 26+ (90 minutes)


Vin=Vinyasa (all classes are 60 minutes, except for Tue 6pm, which is 75 minutes
Vin-Yin=1-hr Vinyasa, yin style


NON-HEATED STUDIO
| | | | | | | | |
| --- | --- | --- | --- | --- | --- | --- | --- |
| | MON | TUES | WED | THURS | FRI | SAT | SUN |
| 9:30am | | S&C | | | | | |
| 4:30pm | | | | S&C | | | |
| 5:30pm | | ASH | | | | | |
| 5:45pm | | | | ASH | | | |
| 6:00pm | | | S&C | | | | |
S&C = Strength and Conditioning (60 minutes)
ASH = Ashtanga (90 minutes)
---



SGY Hot Yoga Teacher Training
Free Informational Session
Monday, June 6th, 5:30-6:30pm


Interested in deepening your practice, learning more about the path of Yoga, and learning how to guide others along this path? We are so excited to announce our very first in-house, comprehensive hot yoga teacher training with Jess. This will be a 200 hour Yoga Alliance certified training program conducted over 8 weekends from October 2016 through March 2017. Find out more detailed information and ask any questions you have at this free informational session on June 6th. If you are unable to attend this session, we will hold one more informational session in September, and you are also more than welcome to email Jess at sweatyganeshyoga@gmail.com
.
---

Class Announcements

Friends for Free Friday
Friday, June 10th
All Classes
Bring one friend for free to each class you attend today!
_________________________________

Foam Rolling Class with Kristen
Sunday, June 12th
9:30-10:30am
$10 drop-in


Foam Rolling is a myofascial release technique designed to stretch out connective tissue, break up scar tissue in the body, and massage and release tight muscles. It also increases flexibility while decreasing muscle tightness, as well as muscle soreness. Join Kristen for these drop-in classes once per month and see how foam rolling can improve your yoga practice and mobility in daily life!

Attend this class, roll everything out, and then take vinyasa at 11, which will feel amazing afterward!

Please bring your own foam roller if you have one. We have 20 available for use while at the studio, and if all of those are taken, you can also purchase a foam roller at the studio.

_________________________________

Music Class
Friday, June 24th
6pm Core 26 Class
Led by Alaina
_________________________________

Candlelight Vinyasa Class in celebration of the Solstice
Tuesday, June 21st,
6-7:30pm
Led by Jess
Although the actual summer solstice occurs on June 20th this year, we will celebrate the beginning of summer with a special vinyasa class on the 21st. Summer is often a time of adventure, love, and reconnection with the world, especially in Eugene where we often wait all year for these next few months! Join us as we dedicate our practice to finding our inner light while the light outside grows brighter and lasts longer. We recommend arriving a little early for this class as it may fill up!

_________________________________

Community Class
Vinyasa in the Vinyard
Sunday, June 26th
10-11:30am at Sweet Cheeks Winery
$20 with pre-registration, $25 at the door
Led by Karlene
Harp accompaniment by Kelly Miller-Lopez
Price includes class and a glass of wine after class

Sweaty Ganesh Yoga, Kelly Miller-Lopez & Sweet Cheeks Winery are collaborating to bring their communities a sublime outdoor and deeply powerful yoga experience.

Just following the summer solstice, join us in exploration on our mats, soaking up both the natural elements of mother nature, along with the revered, angelic sound of the harp.

Recent clinical studies have shown the harp to have measurable therapeutic benefits for reducing stress, and anxiety, inducing restful sleep, and helping listeners release physical and emotional suffering.

If you don't drink, consider sharing the glass with another or simply drink in the sunshine & sound while donating to Courageous Kids. All profits from this event will benefit Courageous Kids, a grief support program for youth and their families, for whom a loved one has just died.

Pre-registration encouraged, as space is limited.
_________________________________

Strength and Conditioning
June Focus: Balance in Yoga and Everyday Life
Tuesdays, 9:30-10:30am (child care available)
Wednesdays, 6-7pm
Thursdays, 4:30-5:30pm

Join us in Strength and Conditioning this month as we focus on balance, integrating the right and left hemispheres of the brain, and cross-crawl exercises. If you've missed our classes on Outer Hips, Functional Core Strength, Shoulders, and Lower Back Stability, we will revisit some of the exercises we've done, with an emphasis on neurological patterning in the brain and the body. Classes include conditioning exercises, functional movement activities, yoga postures, myofascial release, targeted muscle testing and quick self fixes.

Check out our monthly challenge videos posted at the start of each month on our Facebook page and Youtube channel!


---
Posture of the Month
Garudasana
(gah-rue-DAHS-anna)
Eagle Pose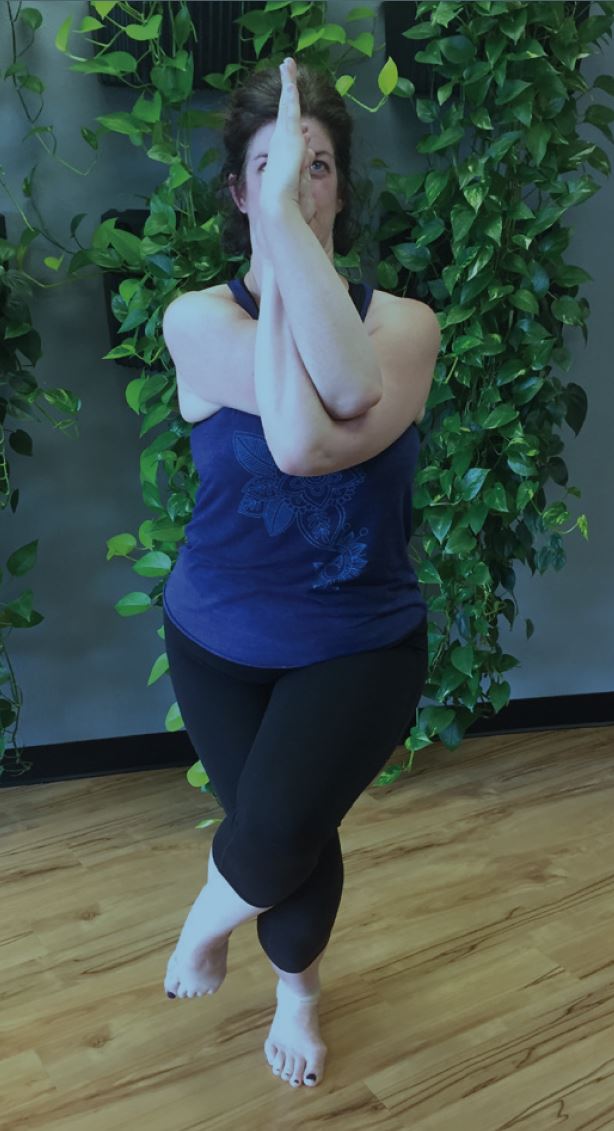 Garudasana is a standing balance pose that requires and develops focus, strength, and serenity. The name comes from Garuda, the mythic "king of the birds," the vehicle of Vishnu. The word is usually rendered into English as "eagle," though the name also literally means "devourer," because Garuda was originally identified with the "all-consuming fire of the sun's rays."
Here are some tips as you practice this pose:
Squeeze your thighs and arms together tightly. The more compact you can

make your body, the more balance you will gain.

For greater stability, think about lifting the inner arch of the standing foot

so there's a sense of drawing energy up the inner leg.

Work to keep your hands, arms, and thighs in one straight line.

Practice just the arms of the pose (generally referred to as "Eagle Arms")

throughout the day to counterbalance the shoulder and neck strain from

sitting in front of a computer or driving!
As with all postures, I encourage you to listen to your body and honor where you are mentally, physically and emotionally each day. The pose will be there again tomorrow... practice in such a way that you can be too!

~Hollye
---

Kids Yoga Classes this Summer!

3-5 year-olds Mondays from 4 to 4:45
6-10 year-olds Wednesday from 4 to 4:45.
$12 drop-ins or $40 for the whole 4 weeks per child

4-week Summer Kids Yoga Exploration Classes are offered June 20th through July 13th and then again August 1st through August 24th. These movement based classes pair yoga with dance, music, art and play for a creative and mindful experience.


---

Teacher Feature

Julie Coren

I was taught that everything is yoga. That it is in every thought, every breath, every movement. It is there every time I take a drink of water, walk my dog, hold open the door for a stranger. Ten years ago, at age 24, this was an idea that was pretty far beyond me. I first came to yoga to heal an injury, maybe lose a few pounds, but not to change my life. I had no idea that I was embarking on a journey that still to this day challenges, surprises, and delights me at every turn. I had no idea that I was about to find not only a passion, but also a profession. And I had no idea that the philosophy that "everything is yoga" would eventually resonate with me on such a powerful and personal level.

Following a high-risk pregnancy (during which I was unable to practice with with rigor, vigor, and frequency I was accustomed to) and eventually the birth of my daughter in February 2015, I have to say that the notion that "everything is yoga" is something I finally understand. Where once my yoga practice was driven often by physical progress in asana (how could I get stronger here, kick higher there), now it presents itself in a much different way. I now look for the yoga even in the most mundane moments. And I find yoga in the most tender and quiet ones. Yoga is rocking my daughter to sleep. Yoga is cuddling on the couch with my husband once she is in bed. And yoga is standing in front of you all a few times a week and watching you be the most "you" that you can be. I thank my teachers for teaching me this even when I was unable to grasp it, I thank SGY for giving me such a loving and comfortable space in which I can explore and grow, and I thank all of you for greeting me with love and inspiring me every single day!

See you in the hot room!


---



Meet our Newest Teachers
Hollye Holbrook is passionate about living authentically with intention, self-awareness and compassion both on and off the mat. She is committed to holding a space for people to explore their truths, grow and heal through their practice. Hollye's classes are explorations into self-discovery with a focus on alignment, breath awareness, and 'being here now'. She is honored to be able to share this practice with others and looks forward to sharing time and space with you on the mat. Hollye is a graphic designer, lover of nature, native Oregonian and the biggest fan of her favorite fuzzy beast Grey the cat. She completed her 200-hour certification at YogaWorks in January of 2014 and has since spent over 500 hours training with her teacher Annie Carpenter.


Cloud Scott I took on yoga as a sincere practice in 2007. From there it grew and grew and in 2014 I was certified to teach. My teaching practice is a direct extension of my personal practice. Its been amazing to witness and explore this personal growth along side the growth of those who practice with me. In this way my students are also my teachers and we all grow together.

Its been such a powerful journey practicing at SGY with you all over the last year and I am deeply honored to be expanding my personal practice at Sweaty Ganesh by starting to teach. Thank you for sharing the space with me. Namaste.


---



SGY Blog
Check out our new blog on the website. Thanks to our newest teacher Hollye, this now has information on our posture of the month, with descriptions, history, photos, modifications, benefits, and more. There are also two articles coming on the mechanics of breathing, written by Ashley. This is some great information to augment your practice!