Friends for Free Friday


Foam Rolling Class with Kristen

Free Your Hips Workshop with Jess and Karlene


Music Class

Community Class

CommUNITY Yoga Celebration

Yoga Fundamentals Class with Ashley


Unlocking Bandahs Workshop with Jess and Julie

SGY Yoga Retreat

Pose of the Month: Vkrsasana (Tree Pose)

Teacher Feature: Hollye Holbrook


---

Friends for Free Friday
Friday, October 14th
All Classes
Bring one friend for free to each class you attend today!

_________________________________


Foam Rolling Class with Kristen

Sunday, October 16th
9-10am
$10 drop-in

Foam Rolling is a myofascial release technique designed to stretch out connective tissue, break up scar tissue in the body, and massage and release tight muscles. It also increases flexibility while decreasing muscle tightness, as well as muscle soreness. Join Kristen for these drop-in classes once per month and see how foam rolling can improve your yoga practice and mobility in daily life!
Attend this class, roll everything out, and then take Vinyasa at 11, which will feel amazing afterward!
Please bring your own foam roller if you have one. We have 20 available for use while at the studio, and if all of those are taken, you can also purchase a foam roller at the studio.
_________________________________

Free Your Hips and the Rest Will Follow: Hip Opening Workshop for all Levels



with Jess and Karlene
Saturday, October 22nd, 1-3pm
$35 regular price, $30 SGY Diamond Members
Join us for a hip opening exploration like no other. All practitioners welcome! We will combine meditation, pranayama, myofascial release, and asana tools from vinyasa, yin and restorative yoga to increase mobility in the hip joints, legs, and lower back. Come prepared to learn, practice, and ask any individual questions you might have. Register online or in person at the studio. Space is limited!!

_________________________________
Music Class

Friday, October 28th
6:00pm Core 26 Class
Led by Benjamin
Halloween Monster Mash!

_________________________________
Community Class

Sunday, October 30th
1-hour C26 Class
12:30 - 1:30pm
Led by Jocelyn


This month's class will benefit the Whiteaker Community Council, who works to make the neighborhood safer and more enjoyable for the community.

All levels of practitioners are welcome to attend this donation-based class.
_________________________________
CommUNITY Yoga Celebration


Saturday, October 15th
12-5pm
Unitarian Universalist Church (1685 W 13th Ave)
$5-25 sliding scale ticket price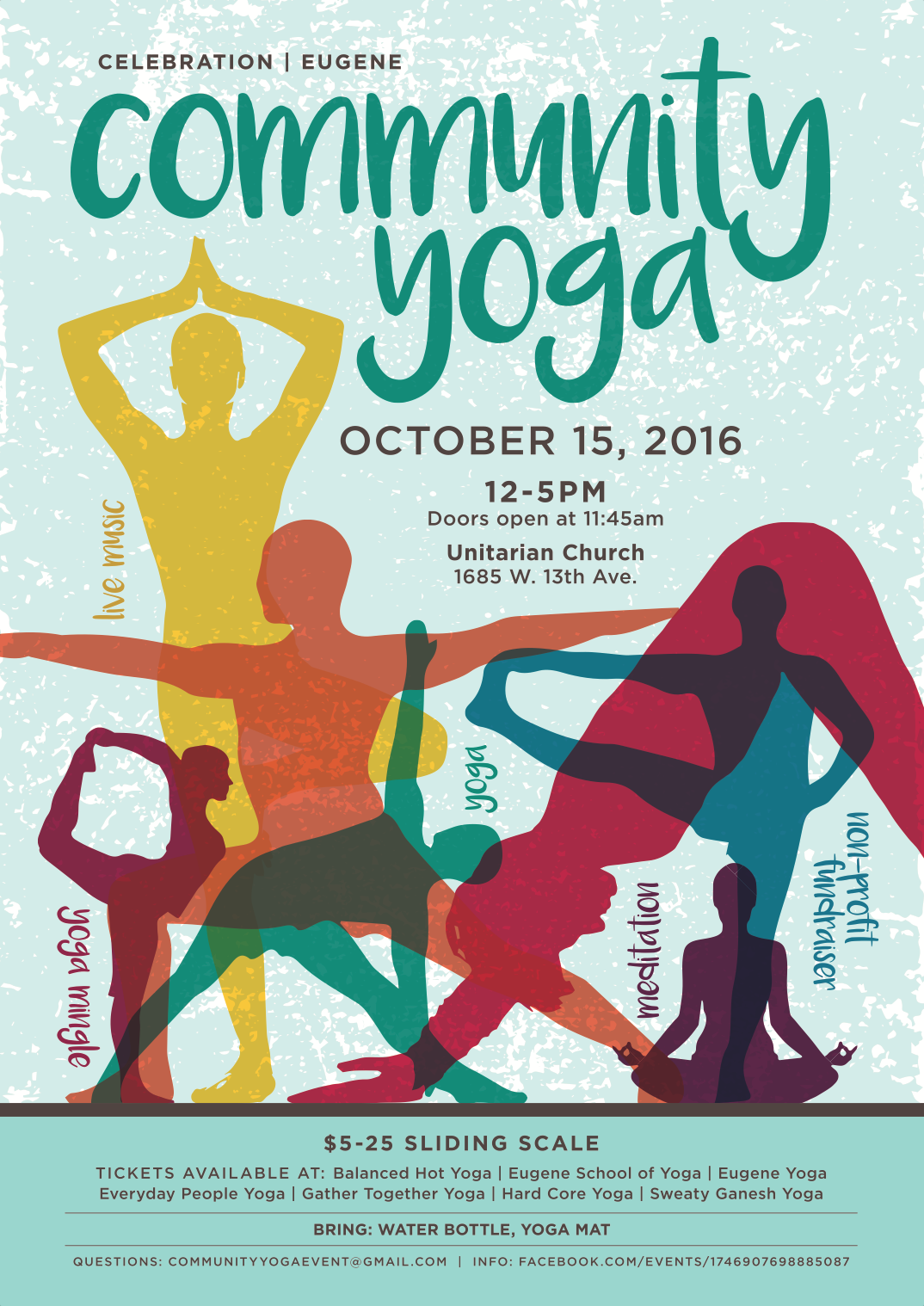 Join us for our very first CommUNITY Yoga Celebration, organized by most of the yoga studios in Eugene! Enjoy an afternoon of meditation, kirtan, chanting, and 3 different yoga classes appropriate for all ages, bodies, and levels of experience. We will also have local food vendors on site with samples, and raffle prizes from each of the participating studios (Balanced Hot Yoga, Eugene Yoga, Gather Together Yoga, Everyday People Yoga, Eugene School of Yoga, Hard Core Yoga, and SGY). All profits benefit ShelterCare. Space is limited so we recommend buying your tickets in advance at SGY! $5-25 sliding scale ticket price.
_________________________________
New Yoga Fundamentals Class begins in November!





Starting November 1st, join Ashley on Tuesday nights from 6-7:15pm in the Moon Room for Yoga Fundamentals, a class designed for beginners who would like to learn more about their bodies and how to get the most out of their yoga practice. Often times, when new folks sign up for class, they have questions about the practice and how it fits with their particular set of injuries, history, and life experiences. This class is designed to address exactly that! Yoga Fundamentals is a 4-part series that repeats each month, and anyone is welcome to drop in any point in the series. The first three classes focus on Mental Training, Breath Training, and Movement Training, and the final class of each month will be an Open Posture Clinic. Even if you are a seasoned practitioner, you might consider attending the Open Posture Clinic, as this is an opportunity to ask any individual questions you have about your body or particular yoga postures with which you are having difficulty. This class is included with any package or membership you purchase at SGY, including the introductory offer.


_________________________________

Unlocking Bandhas Workshop


Saturday, November 12th
1-3pm
with Jess and Julie
$35 Regular price, $30 SGY Diamond Members



If you've ever heard your yoga teacher say, "lift your pelvic floor" he/she was probably referring to a bandha. Bandhas are energy locks in your body that assist you in channeling energy into your yoga postures, regulating your internal systems, developing breathing practices, and building mental concentration. Understanding the bandhas and knowing how to work with them in class are key elements in deepening your yoga practice. Join us for a detailed, hands-on exploration of these energy locks and how you can start to apply them.

WE RECOMMEND NOT EATING FOR AT LEAST 2 HOURS PRIOR TO THIS WORKSHOP

---

SGY Yoga Retreat


Mark your calendars for our very first SGY Yoga Retreat in Yachats next year, from Friday January 27th through Sunday, January 29th. This retreat includes a dharma talk, active asana classes focused on backward bending, restorative yoga class, foam rolling class, and meditation, all with the backdrop of the beautiful Oregon coast. Stay tuned for more details next month!


---

Pose of the Month


Vrksasana (Tree Pose)




The name Vrksasana comes from the Sanskrit word vriksa or vriksha meaning "tree". Vrksasana is both a balancing pose and, secondarily, a hip opener. It also contains elements of movement that ascend while others remain rooted into the ground.

In Tree Pose, it helps to imagine that your body is centered on an invisible plumb line dropping from the crown of your head, through the middle of your torso and pelvis, and straight into the ground beneath you. You want to remain centered around that plumb line even though you're on only one leg. To do this, strengthen the trunk of the tree—your core—and firm your standing leg by hugging the muscles of your inner thigh in toward your midline. Your standing leg is like the roots of your tree, and your stable pelvis carries energy from your roots up into the spine and torso, creating a strong trunk. Your arms reach up and out like branches expanding into the sky.

In yoga, there is a principle called satya (the practice of truthfulness) that teaches yogis to think, speak and act in alignment with what is true. Because it's a challenging balancing pose, Tree Pose offers an opportunity to practice this principle by aligning yourself with the truth in your own body.

Pose Type:
standing pose

Benefits:
• Strengthens thighs, calves, ankles, and spine
• Stretches the groins and inner thighs, chest and shoulders
• Improves sense of balance
• Improves concentration
• Relieves sciatica and reduces flat feet

Preparatory poses: butterfly; triangle pose; warrior II

Follow-up poses: standing poses

Tips:
• Work the pose from the ground up. Balance your weight evenly across your standing foot. Then, find balance and strength in the shin, calf, and thigh of your standing leg. Find alignment in your hips, tailbone, pelvis, and belly; and then in your collarbones, shoulder blades, arms, and neck.
• You can put a hand on a nearby wall or stand near a wall in case you lose your balance.
• Place your lifted foot lower on your standing leg. It's fine to put your foot on your inner calf or even at your ankle, with your toes resting on the ground.
• Soften your face. If you are biting your lips or gripping your jaw, soften and let go.
• It's OK to fall! This is the practice: try, fall, and try again. See whether you can keep trying without sinkinginto frustration. Try to have fun!

Variations:
• You can challenge your balance by practicing this pose with your eyes closed. Learn to balance without any reference to the outer environment.
• Stretch your arms straight up toward the ceiling, parallel to each other, palms facing, or touch the palms together forming an inverted V with the arms.

Cautions:
• Do not practice this pose if you have a recent or chronic knee or hip injury.
• Due to the balancing nature of this pose, do not practice Half Lotus Tree Pose if you are currentlyexperiencing headaches, insomnia, low blood pressure, or if you are lightheaded and/or dizzy.


---
Teacher Feature


Hollye Holbrook





Hello wonderful SGY community! It is an honor to be featured in the Teacher Feature this month.

I grew up in the forests outside of Cottage Grove, went to school at Oregon State University (I know, I know to all the Duck fans), played professional basketball in Guatemala, moved to New York City for two years and began a career in Graphic Design, moved to Los Angeles for eight years and continued my career while teaching sewing and falling in love with yoga, spent over 600 hours training with master yoga teacher Annie Carpenter, and finally moved back to my favorite place (Oregon!) in July of 2015. I currently work as a full time Graphic Designer here in Eugene, go hiking as often as possible and am so very grateful to teach yoga here at SGY.

While living in Los Angeles, I went to my first yoga class simply to explore something new and to aid in my physical fitness. Since then, it has grown to mean much, much, much more to me. In the first few months of a once-per-week practice, I always left class feeling grounded, centered, stronger in mind, body and spirit, and with a general feeling of peace and wellness. The days I went to yoga class were always good days. I soon was hooked. I wanted to learn more. My once-per-week class became an almost-daily class. And eventually, a seed was planted for the possibility of me teaching yoga. My gut said "Yes!".

Through practicing yoga (then and now) I feel more mindful, more conscious and compassionate, centered and balanced, more limber in body and mind, empowered, less fearful and more confident. I live with more intention and presence both on and off my mat. I feel connected to something greater, connected to community, more connected to myself, and able to put a more authentic expression of myself into the world.

The benefits and wellness that come from moving our bodies, cultivating mindfulness, exploring our truths from one day to the next and continuing on the path are incomparable. I think that one wonderful aspect of yoga is how accessible it is to people of all shapes and sizes; on sleepy days and energetic days; on good days and bad days; both day and night. As we grow, change, age, change again, and continually travel through life, yoga is now. The form it takes may change. The reason we do it may change. The way it changes us may change. But, it is now.

I am so very honored to be a part of the community at Sweaty Ganesh Yoga. Thank YOU for making this an authentic, wholehearted and welcoming community.

Love Loudly. You Are Beautiful.

— Hollye Holbrook

"The success of Yoga does not lie in the ability to perform postures but in how it positively changes the way we live our life and our relationships." — T.K.V. Desikachar